Viernes 26-4-2019 
              23:00h (apertura puertas) 
              7€ anticipada (www.notikumi.com)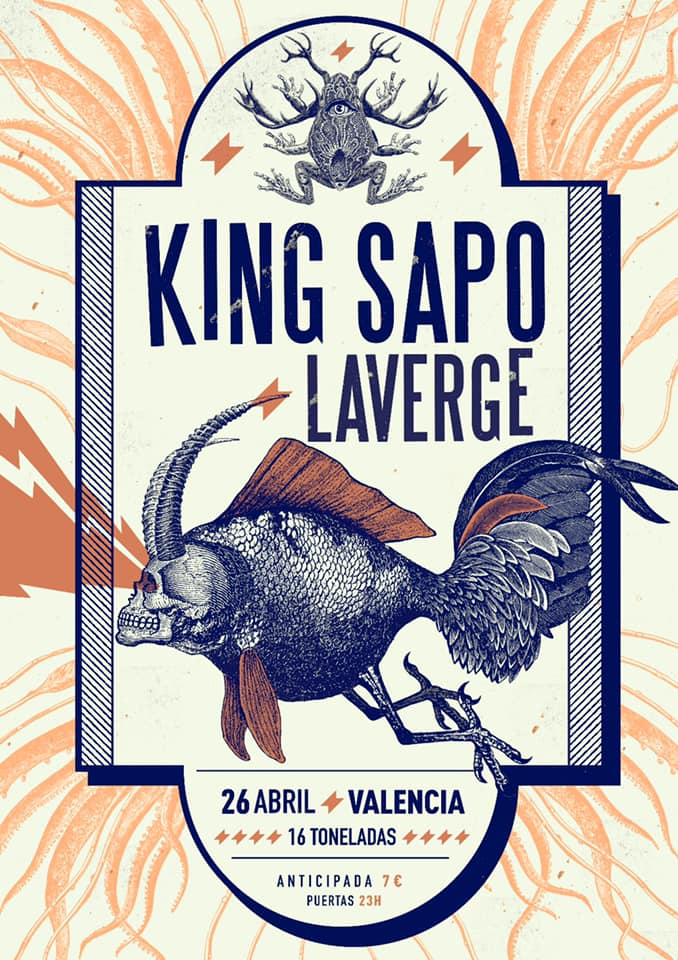 KING SAPO
Banda de rock que actualiza el sonido puente entre los 70 y los 90.
Ellos son Andrés Duende, Jesús Trujillo y Javi Planelles (ex de Éldorado) y Jose Alberto Solís (Última Experiencia, SCR y Wyoming y los Insolventes).
LAVERGE
La banda nace en 2013 y un año después autoedita su primer EP "Back to the wild".  Tras este, editan con su propio sello (Carcosa Records) su primer largo "Handle This", un cóctel que mezcla desert rock, stoner o pop y que no ha dejado indiferente a nadie.
"Handle This" fue reconocido con el premio a mejor disco, mejor canción y artista revelación valenciano de 2017 por parte de La Gramola de Keith. Además de otros reconocimientos también han conseguido traspasar fronteras siendo recomendados en la radio londinense Reprezent por la banda Truckfighters.
… y después SESIÓN DISCOTECA hasta las 6:30h con 16Toneladas DJs