Sábado 16-6-2018 
              23:00h (apertura puertas)
              12€ anticipada (www.movingtickets.com, Discos Ámsterdam, Harmony Discos); 15€ taquilla.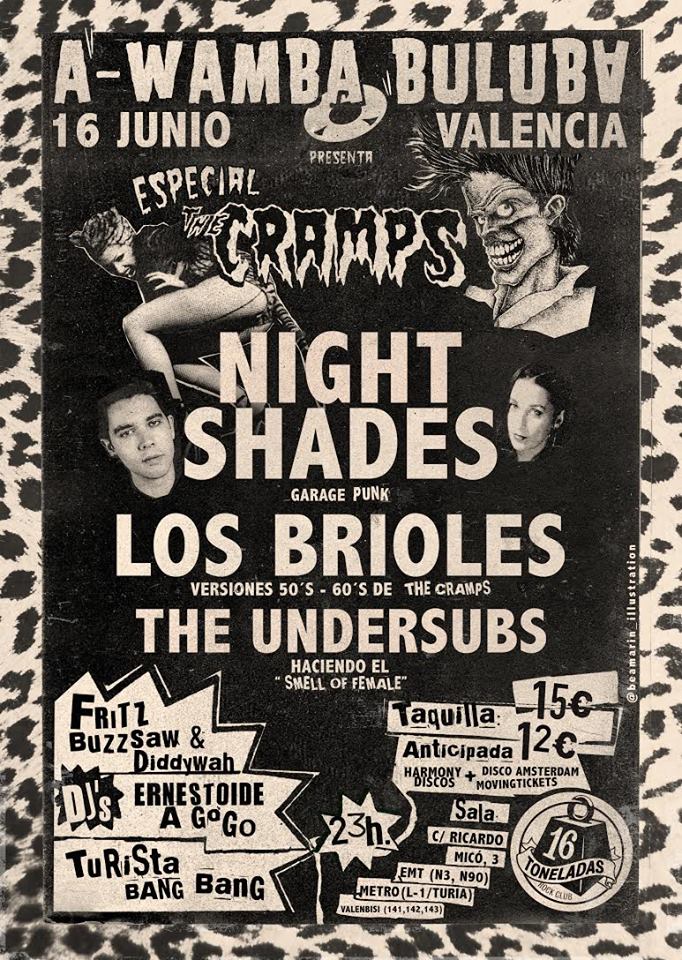 A Wamba Valencia y 16Toneladas presentan "Especial THE CRAMPS" con los directos de: NIGHT SHADES + BRIOLES + THE UNDERSUBS.
Y en cabina, hasta el amanecer,  Guest Djs: Fritz Buzzsaw & Diddywah + Ernestoide A Go Go;  Residente: Turista Bang Bang.
NIGHT SHADES
Primera gira por nuestro país de Night Shades, banda jovencísima de Londres con mucho sabor a The Cramps, dale al play 
BRIOLES
Versiones 50's – 60's de The Cramps.
THE UNDERSUBS
Haciendo el  "Smell o Female".
… y después SESIÓN DISCOTECA hasta las 6:30h con Fritz Buzzsaw & Diddywah + Ernestoide A Go Go + Turista Bang Bang