Sábado 10 Septiembre 2022
19:00h (puertas) / 19:30h (concierto)
Entrada anticipada 25€ (+gg) (entradium.com) ; 30€ taquilla (venta en taquilla sujeta a disponibilidad)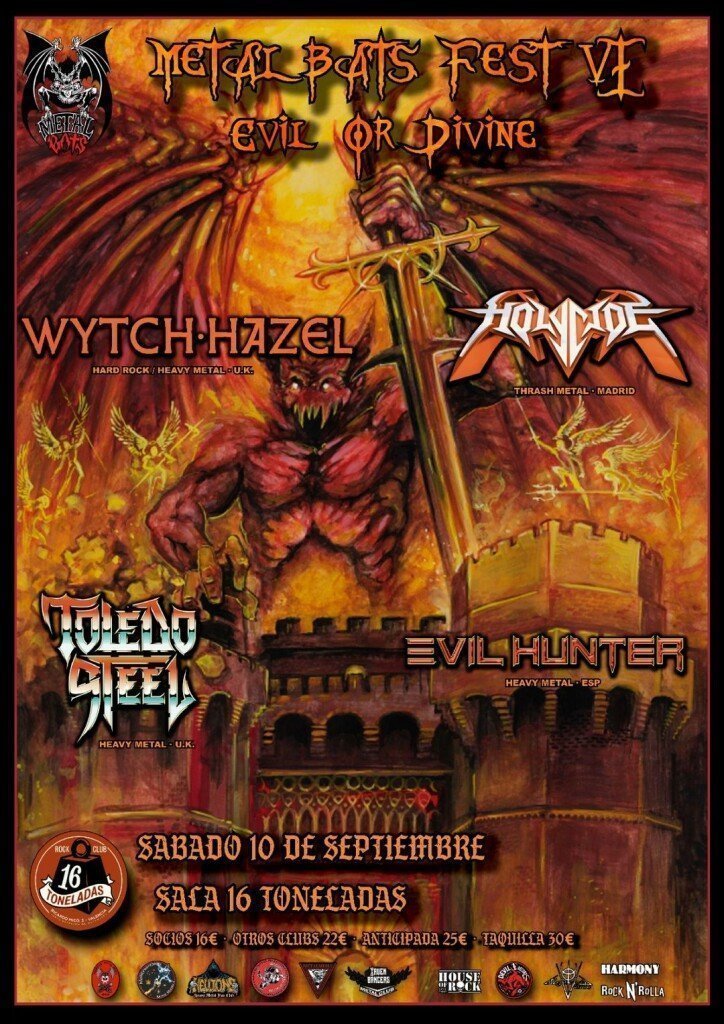 Tras 2 años de pandemia y sin poder celebrar el festival, METAL BATS vuelven por todo lo alto con un cartel de infarto:
Desde Reino Unido Wytch Hazel, quienes con su mezcla de heavy metal, folk y hard rock nos ofrecerán su particular sonido. En sus propias palabras: "En el universo paralelo donde la NWOBHM ocurrió 600 años antes"
Desde Madrid Holycide, representando el thrash metal más agresivo. Vendrán a tocar temas de sus álbumes "Fist To Face" y "Annihilate… Then Ask" y a dejar Valencia asolada. Preparad esos cuellos!
También desde Reino Unido Toledo Steel, heavy metal clásico para los amantes del género donde presentarán su álbum "Heading For The Fire" y nos prometen una descarga que difícilmente olvidaremos.
Y abriendo el festival tendremos a Evil Hunter con su heavy/power metal quienes vienen con su último trabajo "Lockdown" bajo el brazo para presentarlo en Valencia para tod@s vosotr@s.
Os esperamos el 10 de septiembre para otra inolvidable noche de heavy metal!