Domingo 25 Febrero 2024
20:00h (puertas) / 20:30h (concierto)
Entrada anticipada 20€ (+gg) (movingtickets.com); 25€ taquilla (venta en taquilla sujeta a disponibilidad)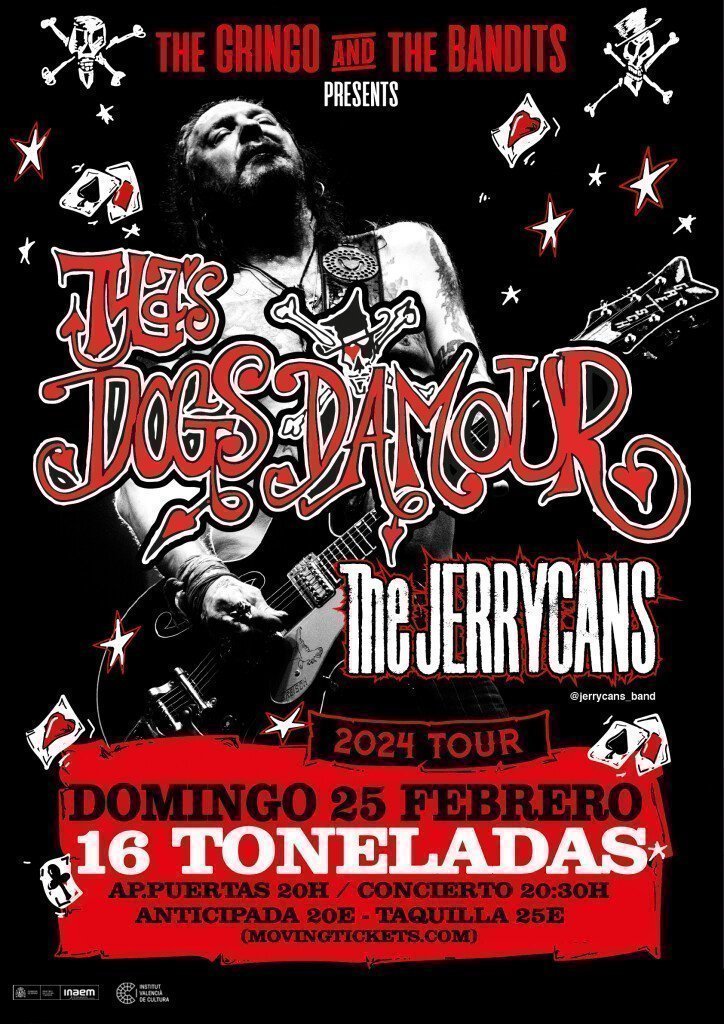 TYLA'S DOGS D'AMOUR
Tyla, nacido Tim Taylor, es un polifacético artista; además de músico y compositor, se considera poeta, pintor y dibujante. Algunos de sus dibujos son conocidos por iluminar las portadas de sus discos, pero ha desaroolado una carrera profesional artística que compagina con su carrera musical.
Entre sus discos en solitario, destacan los tres primeros, "The Life & Times Of A Ballad Monger" "Gothic" y "Libertine", discos que contienen poderosas canciones y temas acústicos en la línea de los Dogs. Destacar también "Flagrantly Yours" el disco que grabó con el vocalista Spike, del "grupo- hermano" de los Dogs, The Quireboys, bajo el nombre "Spike's and tyla's hot knives", un disco que la crítica calificó como cargado de preciosas melodías y en el que las voces quebradas y cazallosas de Spike y Tyla se complementan para dar vida a temas cargados de romanticismo roquero.
The Dogs D'Amour es un grupo de rock inglés formado en 1983 por el vocalista Ned Christie, los guitarristas Tyla y Nick Halls, el bajista Karl Watson, y el batería Bam, aunque posteriormente Tyla se convirtió en el vocalista y líder de la banda, siendo asimismo el compositor de prácticamente todos sus temas.
THE JERRYCANS