Jueves 17-11-2022 
21:00h (puertas) / 21:30h (concierto)
Entrada anticipada 16€(+gg) (www.movingtickets.com, www.tranquilomusica.com); 20€ taquilla. (Venta en taquilla sujeta a disponibilidad)
*Las entradas adquiridas para los conciertos aplazados anteriormente, son válidas para esta fecha.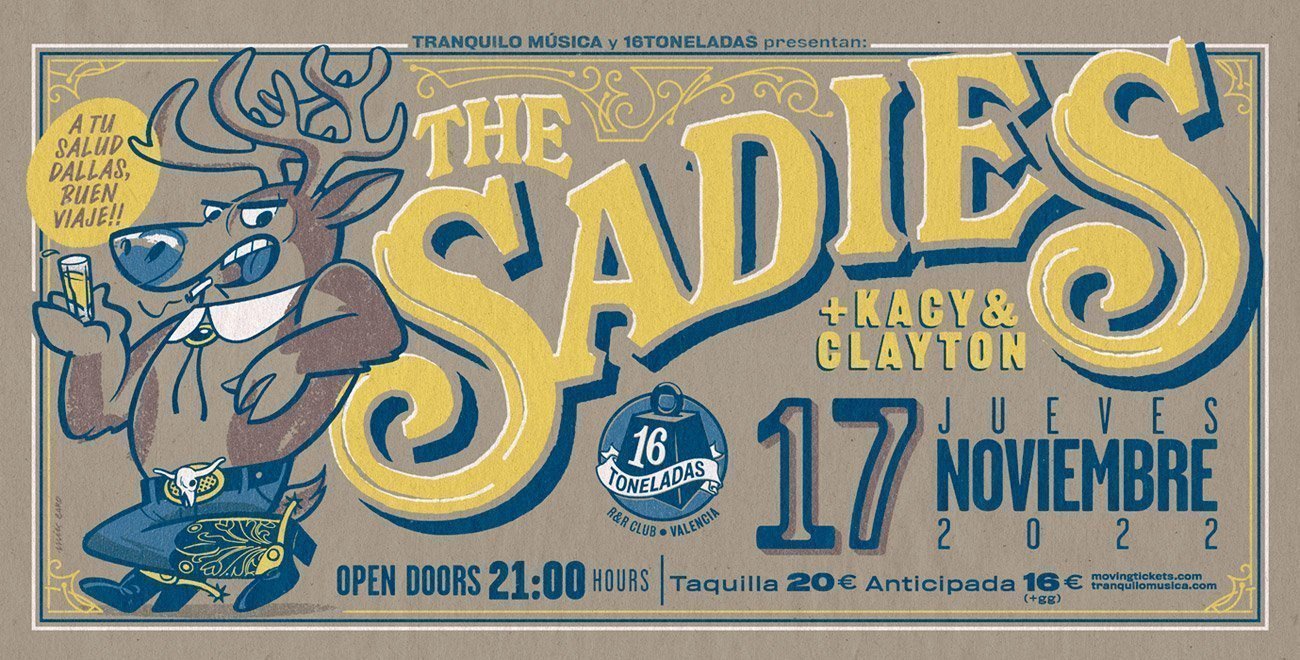 THE SADIES
The Sadies es un cuarteto canadiense, liderado por los hermanos Dallas y Travis Good, que lleva desde 1998, cuando su desembarco y debut en las filas del sello de Chicago Bloodshot, insuflando elegancia a un legado que remite a sus paisanos The Band, con esa sensación de montaña mística que aquellos transmitían, como si estos fueran una reencarnación suya lista para los envites del siglo XXI.
La música de The Sadies, híbrido de garage, psicodelia, rockabilly, surf y bluegrass, no entiende de reciclajes. Es flexible y versátil por fuera, cuajada por dentro. Les ha servido para ubicarse entre los favoritos de los seguidores del rock de bota con tacón cubano y de corbata fina, pero también para convertirse en la banda de acompañamiento por excelencia del country alternativo y alrededores: han dado cobertura a nombres como Neko Case, Jon Spencer, Jon Langford, Andre Williams y John Doe, tanto en estudio como en el escenario, sobre el que son estelares.
Precisamente con Doe facturaron "Country Club" (2009), disco de versiones del género vaquero. Luego sacaron "Darker Circles" (2010), especie de continuación de "New Seasons" (2007): no en vano en ambos colaboró en la producción y composición Gary Louris, de The Jayhawks, quien aportó al sonido unos apliques de frescura y profundidad que iban de Johnny Cash a The Shadows y de ahí a las músicas pre-Beatles que coagularon en el rock'n'roll.
A finales de 2013 publicaron, "Internal Sounds" (Yep Roc), seguido poco después, en abril de 2014, por un álbum firmado a medias con Gordon Downie (The Tragically Hip). En febrero de 2017 vio la luz "Northern Passages", que grabaron en invierno de 2015 en el sótano de la casa paterna de los hermanos Good.
Y en enero de 2020 sacaron la canción "The Most Despicable Man Alive", que ocupa la cara B de un 7" compartido con el también canadiense King Khan, que en la cara A aporta el tema "Old Dunga". Este split, ya agotado, se publicó en una edición limitada de mil copias.