Domingo 16-6-2019 
              12:00h (apertura puertas)
              10€ taquilla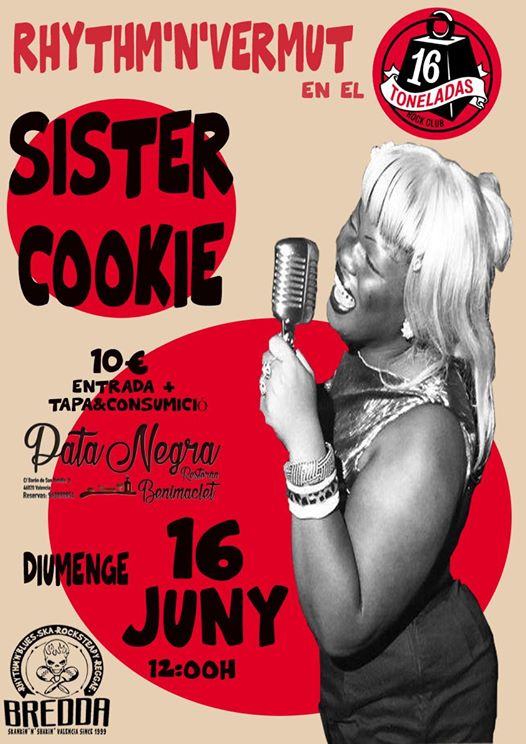 Bredda Jamaican Music Club y 16 Toneladas presentan: RHYTHM'N'VERMUT.
Concierto de la incombustible y enorme reina del rhythm'n'blues SISTER COOKIE a la 13:00h. A partir de las 12 y hasta cierre a los platos culinarios las delicatessen de Pata Negra Benimaclet y a los platos para vinilos las rodajas de acetato de la Bredda Crew.
Durante toda la matinee cañas / vermut / refresco a 2 pavos; y deliciosas tapas a cargo del Pata a 2 pavos también; o combo tapa + bebida por 3 pavos. 
SISTER COOKIE
La londinense, conocida como "the black rose of the blues", cantautora y pianista autodidacta nacida en Lagos, SISTER COOKIE creció rodeada de todo tipo de sonidos sólidos. Su juventud la vivió con los discos de jazz, soul, highlife y juju de las colecciones de sus padres. Decidió probar suerte, y llegó a ser habitual en locales de Londres como The Black Gardenia y The George Tavern.
En 2009 se convirtió en madre y, tras algunos años de pausa para centrarse en la vida familiar, volvió a la música a finales de 2012. Hasta la fecha, la Sister Cookie ha cautivado al público con su sonido y carisma únicos en toda Europa y ha colaborado con bandas como: Jim Jones y The Righteous Mind, MFC Chicken y The Future Shape of Sound.
SISTER COOKIE ahora se presenta con su propia banda, un cuarteto con sede en Londres formado por algunos de los mejores músicos veteranos de la capital.