Jueves 11 Mayo 2023
20:30h (puertas) / 21:00h (concierto) 
Entrada anticipada 15€(+gg) (www.movingtickets.com, Discos Oldies, Discos Amsterdam, Harmony Discos y El Glop) ; 18€ taquilla. (Venta en taquilla sujeta a disponibilidad)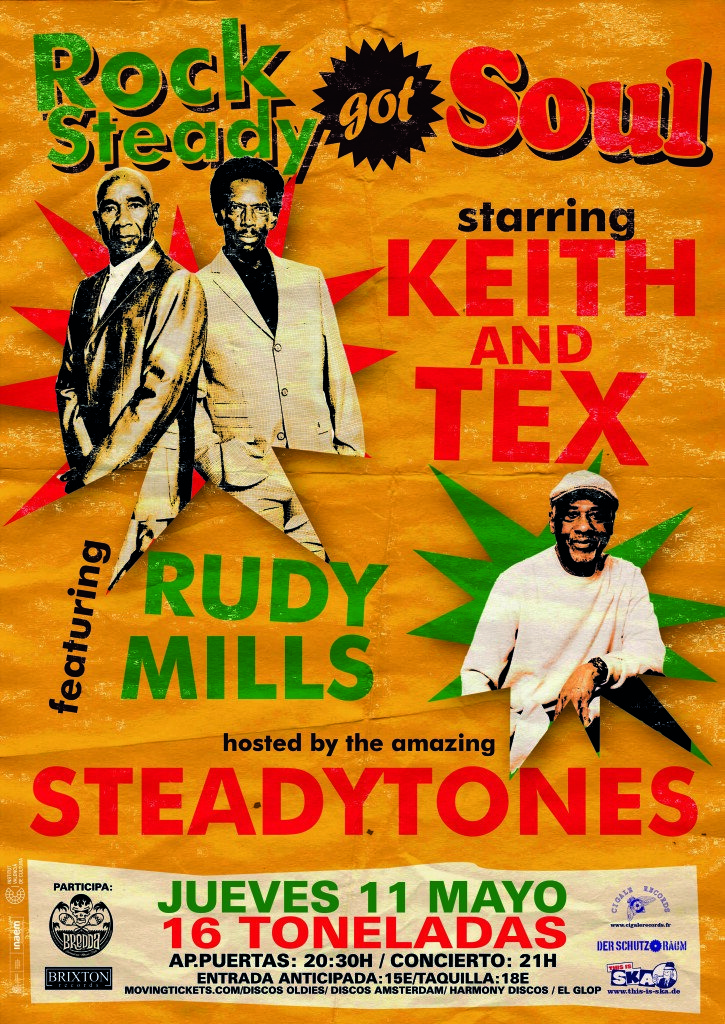 💥Boom shakalaka💥
Feia molt de temps que no teníem l'oportunitat de portar a jamaicans a València ciutat. Des d'aquell èpic concert homenatge al Laurel Aitken amb Dave Barker i Roy Ellis, que després tornarien a vindre per separat, o l'últim de Glen "Greyhound" Oakley, i no podíem deixar l'oportunitat de presentar per primera vegada a València ciutat, als estratosfèrics Keith & Tex i a l'norme Rudy Mills. Aquestes tres llegendes vives de la música jamaicana, aterraran a la nostra ciutat acompanyats pels alemanys The Steadytones, una de les bandes més potents d'oldies jamaicans de l'escena Europea.
Tots tres cantants van iniciar la seva carrera a la Jamaica dels anys 60, durant l'època daurada del rocksteady, i van començar a tindre èxit de la mà del productor Derrick Harriott. Cançons com ara "Stop That Train", "Tonight", "A Long Story" o "John Jones" formen part de la biblioteca musical de tots els amants del rocksteady i l'early reggae. Aquests himnes, entre molts d'altres, els podreu escoltar en directe el proper dijous 11 de maig a la Sala 16 Toneladas, el millor escenari per un concert d'aquest calibre.
Pel que fa a The Steadytones, són una banda bàvara que toquen "explosive reggay", com ells diuen. Aquests músics experimentats, capten i fusionen a la perfecció els ritmes del rocksteady i l'early reggae, fent les delícies de qualsevol entusiasta del "Spirit of 69". Amb més de 10 anys de trajectòria, 3 àlbums i diversos singles, han actuat a pràcticament tota Europa, i han fet de backing band i gravat amb artistes jamaicans mítics com ara Stranger Cole, Patsy Todd, Doreen Shaffer, Dawn Penn, i ara Keith & Tex i Rudy Mills.
3 hores de sweet soulful rocksteady i stomping early reggae, per això l'hora d'inici, que quedaran gravades en la memòria de totes i tots els afortunats que es facen amb una entrada.
Després, per als més calaveres, la colla de Bredda a la cabina amb els seus millors plàstics de Jamaican rhythm'n'blues, ska, rocksteady i reggae.