Jueves 10-11-2016 
              21:30h (apertura de puertas)
              5€ taquilla.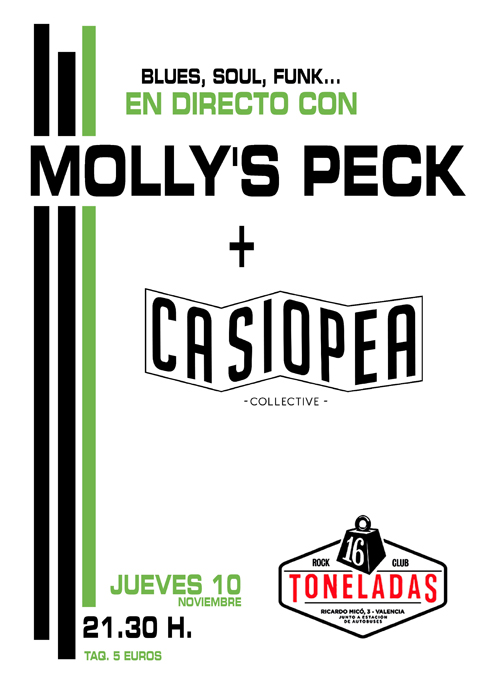 MOLLY'S PECK
Molly's Peck es una Banda de Soul/Pop formada en Valencia en 2016, compuesta por Julia Selbherr, cantante y violinista desde Lörrach (Alemania), y Guilherme Castelhano guitarrista de Sao Paulo (Brasil). Ellos se conocieron en 2014 en Los Angeles College of Music in Pasadena (CA) donde se graduaron por la Associate of Arts Degree in Vocal/Guitar Performance, y tocaron para diferentes artistas en Los Angeles durante su estancia allí.
CASIOPEA COLLECTIVE
Casiopea es nada más y nada menos que mirar al cielo y encontrar una constelación de conexiones, una nebulosa de música multilenguaje. Casiopea es también una supernova a punto de explotar y difundir su mensaje expansivo a lo largo de todo el interespacio existente entre tú y otro tú. O entre tú y él y yo y nosotros.
Casiopea, ya que lo preguntas, es una fiesta de los sentidos. Casiopea es música en directo. Es alma sonora. Casiopea es JAM.
… y en cabina ROSVIL 'DJ