Viernes 1-10-2021
22:30h (puertas) / 23:00h (concierto)
Entradas AGOTADAS
*Aforo limitado, público sentado, distancias entre mesas y medidas de seguridad contempladas por el DOGV.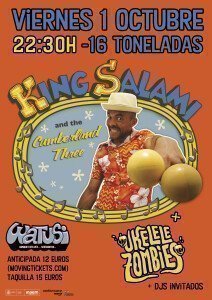 KING SALAMI & THE CUMBERLAND THREE
Son la mejor y más explosiva banda de R&B surgida en Europa en las últimas décadas.
Con base en Londres, representan perfectamente como es aquella ciudad, al tener miembros provenientes del Caribe, Francia, Japón y España.
Tras numerosos singles y varios LP's en sellos de todo el mundo, ahora se encuentran presentando su último álbum, editado en España por FOLC Records.
En sus más de 10 años de existencia se han recorrido medio mundo, convirtiéndose en una sensación R&Bpunk y haciendo disfrutar al público allá donde van con un repertorio que abarca sonidos de los 50's y los 60's y que te harán mover los pies hasta que salga humo de los zapatos.
El Rey guía con sus bailes y sus cánticos a sus secuaces de Cumberland hacia una bacanal de fiesta y cerveza de la que no podrás escapar, una fiesta amenizada con sonidos que van desde el Rhythm'n'Blues loco de Screamin' Jay Hawkins a los ritmos salvajes de Bo Diddley o Andre Williams, mientras la banda The Cumberland Three (con músicos procedentes de bandas de punk-rock) desatan una tormenta de rockabilly vintage, desperate rock'n'roll y stomping soul, con mucho fuego, energía, y sobre todo, diversión.
En los últimos tiempos han sido uno de los grupos triunfadores del programa de TV de la BBC "UK'S BEST PART-TIME BAND".
UKELELE ZOMBIES
Ukelele Zombies son una banda valenciana de garage punk y rock 'n' roll. Llevan recorriendo los escenarios desde 2011 y han tocado en distintos festivales del país como el Wáchina Wáchina, el One Fine Day, y el Funtastic Drácula Carnival.
Han compartido escenario con bandas como Wau Y Los Arrrghs!!!, Los Chicos, King Salami & The Cumberland Three y The Oddballs.
En verano del 2014 ve la luz su primer EP, "GUOU LLEAH!!!", editado por Pocket's Robots Records, con cuatro temas que reflejan la puesta en escena de esta banda bañada en nitroglicerina. Ukelele Zombies no es otra cosa que diversión y TU GRUPO FAVORITO.
… y en cabina Emilio Smartboy y Almir Dugarage DJs