Domingo 9 Octubre 2022
20:00h (puertas) / 20:30h (concierto)
Entrada anticipada 24€(+gg) (www.movingtickets.com, metaltrip.com, myacceso.com); 28€ taquilla. (Venta en taquilla sujeta a disponibilidad)
*Las entradas adquiridas para el concierto aplazado anteriormente, son válidas para esta fecha.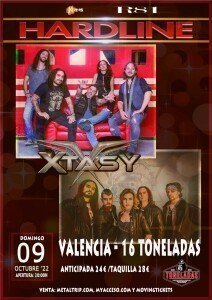 La banda estadounidense de Hard Rock Hardline, encabezada por su conocido cantante Joey Gioeli visitará Valencia el próximo 10 de octubre de 2021 en la Sala 16 Toneladas, para presentarnos el que será su nuevo álbum de estudio titulado "Heart, Mind and Soul" que verá la luz el próximo 9 de Julio.
Un concierto de Hard Rock, donde Hardline descargará sus grandes clásicos y las nuevas canciones contenidas en su nuevo disco.
Pero para hacer más atractiva de visita de Hardline, tendrán como banda invitada a Xtasy desde Pamplona, una gira muy especial para ellos que estarán visitando varias ciudades europeas presentando su nueva formación y su tercer disco de estudio titulado "Eye Of the Storm", que está recibiendo grandes críticas de público y medios especializados.
HARDLINE
XTASY