Miércoles 23-02-2022
20:30h (puertas) / 21:30h (concierto) 
12€ anticipada +gg (notikumi.com); 15€ taquilla (venta en taquilla sujeta a disponibilidad)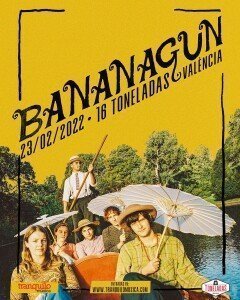 BANANAGUN
Quinteto de Melbourne surgido en 2019 en cuya atractiva psicodelia vintage se funden elementos de Tropicalia, afrobeat de los setenta y retro-pop veraniego.
Con las demos iniciales del cantante, compositor y multiinstrumentista Nicholas Van Bakel como primer germen, ampliado luego con las incorporaciones de miembros de Parsnip y Frowning Clouds, en septiembre de 2019 publicaron su primer EP "Do Yeah" en el sello Full Time Hobby, que les fichó seducido por el single con el mismo título que habían puesto en circulación a principios de ese año (el cual salió en Anti Fade Records).
Ha sido Full Time Hobby, pues, la disquera con que sacaron en junio de 2020 el LP "The True Story Of Bananagun", que les ha abierto las puertas del mercado internacional de par en par a su colorida fusión global tostada por el sol y de composiciones tropicalmente fluidas.
Sirvan como ejemplo reseñas como las siguientes: "Tu nueva banda favorita" (Shindig! Magazine… the latest!); "Suenan adictivamente alegres" (Uncut Magazine); "Genuinamente inspiradores, la de Bananagun es una gran historia" (Mojo); "La próxima vez que estés necesitado de regalarte una escapada, simplemente siéntate, enchúfate a Bananagun y deja que ellos hagan el resto" (Loud And Quiet Magazine).
Por último, apuntar que nombran a The Monks y a Os Mutantes como inspiraciones más directas.