Miércoles 14 Septiembre 2022
21:00h (puertas) / 21:30h (concierto)
Entrada anticipada 14€ (+gg) (movingtickets.com) ; 17€ taquilla (venta en taquilla sujeta a disponibilidad)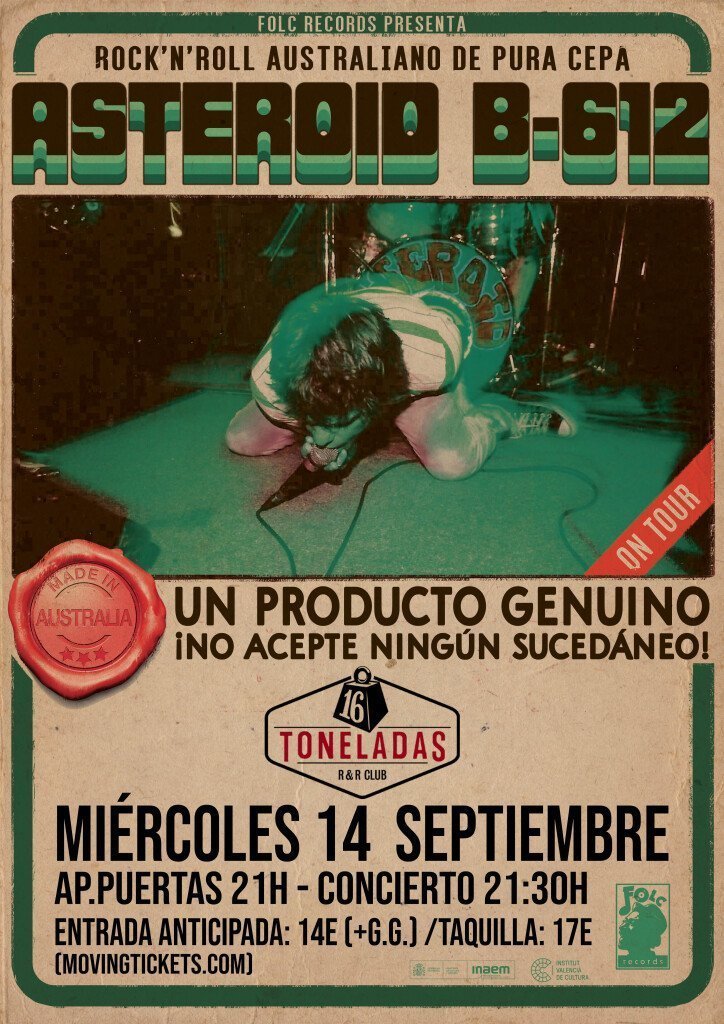 ASTEROID B-612
El asteroide B-612 golpeó con su arsenal de guitarras y aporreó su camino hacia los oídos de la comunidad australiana de garage rock. Ellos son una fuente que va más allá de Sídney a través de Detroit. Ellos siempre tratan de ofrecer rock and roll directo y de alta energía que llega a la garganta. Simple en teoría, pero no fácil de lograr sin parecer una versión recalentada e inferior de tus influencias.
Su guitarrista, John Spittles y líder de los australianos ASTEROID B-612, Johnny Casino, también lideró otros grandes grupos, como THE EGOS, los americanos JOHNNY CASINO'S EASY ACTION, su proyecto en solitario JOHNNY CASINO AND THE SECRETS y actualmente, afincado en Denia, ha formado su JOHNNY CASINO 3.
A principios de los 90 no había ninguna banda como ellos en Australia, que emitiera una afinación fuerte y melodiosa como los Asteroid B-612 desde Sydney, formada por Grant McGyver en la voz y Stewie 'Leadfinger' Cunningham en la guitarra junto con John Spittles, Ben Fox y Scott Nash en la que podías escuchar destellos de los Stones, Cooper, Birdman y el MC-5 en sus canciones combinadas con un sonido verdaderamente auténtico que era propio.
ueron ignorados por la prensa musical convencional durante algún tiempo y solo aquellos que tenían oídos en el underground los captaron. Sus primeros tres trabajos son esenciales para su colección: el álbum homónimo de 1993 (lanzado en el sello Destroyer de Dave Thomas), 'Forced Into a Corner' de 1994 y 'Not Meant For This World' que fue lanzado en 1996.