Viernes 24-1-2020 
              23:00h (apertura puertas) 
              8€ anticipada (www.movingtickets.com, www.notikumi.com, Discos Ámsterdam, Harmony Discos, Café Lola, Ultrasound Discos); 12€ taquilla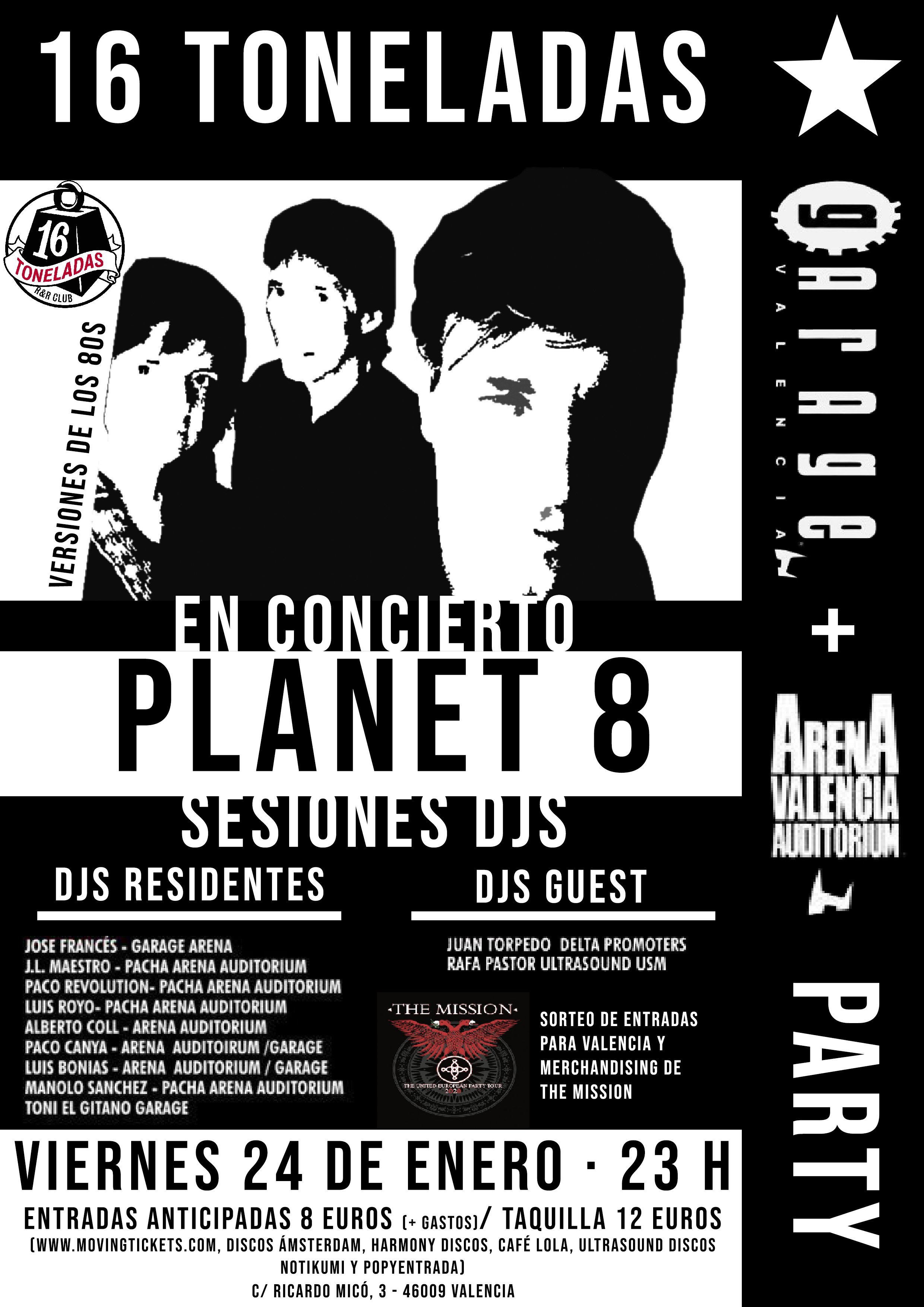 GARAGE VALENCIA presenta 'THE MISSION PARTY'
El 24 de enero en 16 Toneladas, hacemos la primera fiesta que organiza Garage Valencia, la antigua sala de conciertos hermana pequeña de Arena Auditorium.
The Missión Party, con 9 DJ's que pincharon en ambas salas (Garage y Arena Auditorium), y el concierto de Planet 8-versiones de los 80.
Si tienes un poco de añoranza por Garage no te la puedes perder.
PLANET 8 – Versiones de los 80
Planet 8 es un trío formado por Oscar Briz ( voz, guitarra), Silvia Martí ( batería) i Nacho Villanueva ( bajo eléctrico) que interpreta un repertorio de temas íntegramente de la década de los 1980.
El sonido del grupo ha sido alabado por el muro sónico que son capaces de producir y la fidelidad del mismo al sonido original de la época, de grupos como The Waterboys , REM, The Smiths, The Violent Femmes, Echo & The Bunnymen, The Cult, Killing Joke, The Bolshoi, The Damned, The Cure, U2, Prefab Sprout, Radio Futura, The Lords of the New Church, New Model Army, The Jam, The Clash, The Stranglers, The Clash, The Cramps, The Smithereens, La Mode, Tears for Fears, The House of Love, Chris Isaak, Pixies, Derribos Arias, The Chameleons, The Church, Inmaculate Fools, Tom Petty, The LA's, The Stone Roses, Billy Idol, Aztec Camera, David Bowie.
… y después SESIÓN DISCOTECA hasta las 6:30h con José Francés, J.L.Maestro, Paco Revolution, Luis Royo, Alberto Coll, Paco Canya, Luis Bonias, Manolo Sanchez, Toni El Gitano, Juan Torpedo y Rafa Pastor DJs