Miércoles 7 de Junio 2023
21:00h (puertas) / 21:30h (concierto)
Entrada anticipada 18€(+gg) (www.movingtickets.com); 22€ taquilla. (Venta en taquilla sujeta a disponibilidad)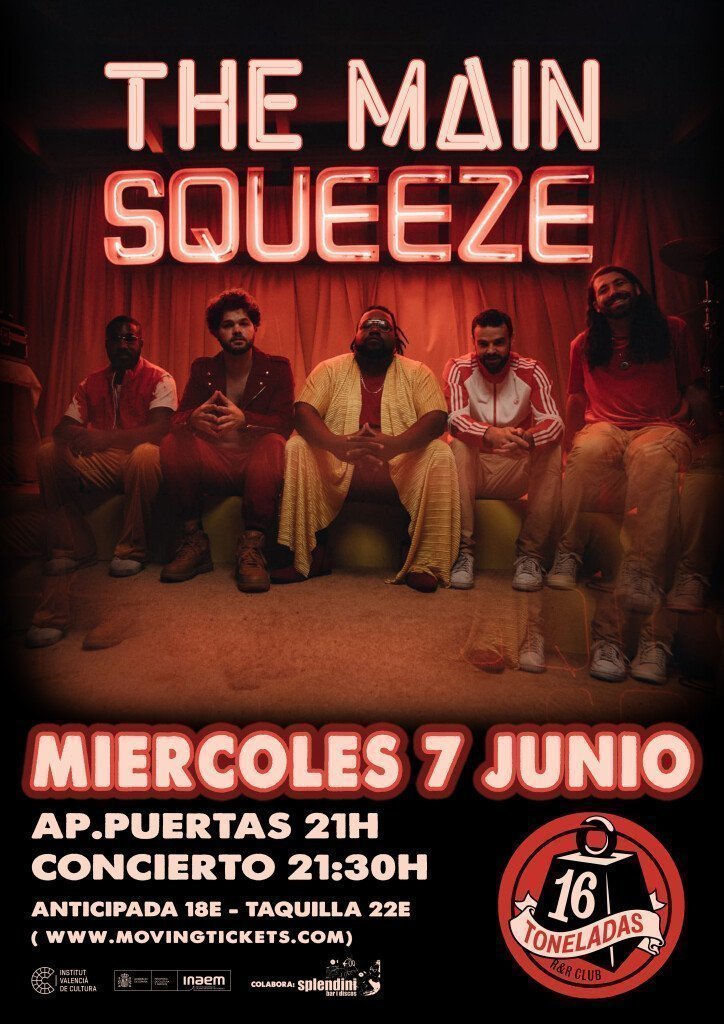 THE MAIN SQUEEZE 
The Main Squeeze, con profundas raíces musicales surgidas en el Medio Oeste, han marcado sus vidas en cada giro y curva. Comenzando como una banda de fiesta en la Universidad de Indiana, hasta su último lanzamiento, eso ilustra su creciente madurez musical y creatividad inspirada en su nuevo hogar en Los Ángeles.
Si la madurez llega con la experiencia, cada nuevo álbum refleja este crecimiento. The Main Squeeze ha pasado varios años construyendo su base desde que fue defendido por el productor Randy Jackson: han tocado Red Rocks; compartió escenario con The Roots, Aloe Blacc, Janes Addiction, Umphrey's McGee y Trombone Shorty; y actuó en festivales de música como Bonnaroo, Electric Forest, Summer Camp y High Sierra.
The Main Squeeze es una mezcla de soul y hip-hop, funk con rock. Saben que su sonido es conmovedor, poderoso y único, algo que tanto los medios como la audiencia corroboran. Estos fundamentos son importantes, pero sin embargo, el verdadero enfoque de The Main Squeeze siempre será esforzarse por llegar al interior de las personas.
Su música está equilibrada con ritmo, emoción, voces e instrumentación, con un ambiente a la vez atemporal y futurista, ya que están inspirados en los grandes, pero han encontrado la manera de infundir su propio genio en la mezcla.