Domingo 5-9-2021
18:00h (puertas) / 19:30h (concierto)
ENTRADAS AGOTADAS
*Aforo limitado, público sentado, distancias entre mesas y medidas de seguridad contempladas por el DOGV.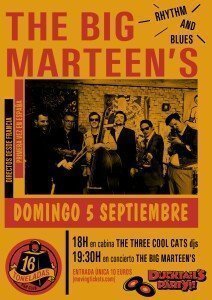 THE BIG MARTEEN'S
Ducktail's Party presenta… directos desde Francia y por primera vez en España, THE BIG MARTEEN'S!!
Desde Montpellier, actitud y elegancia con influencias de Louis Jordan, Ray Charles o Big Joe Turner, un buen chute de Swinging Rhythm & Blues de muchos kilates, con un 7" en camino que va dar mucho que hablar!!!
… y a los platos, desde las 18h, THREE COOL CATS Dj's