Miércoles 29-5-2019 
              21:00h (apertura puertas) / 21:30h (concierto)
              14€ anticipada (www.movingtickets.com, Discos Ámsterdam, Harmony Discos); 17€ taquilla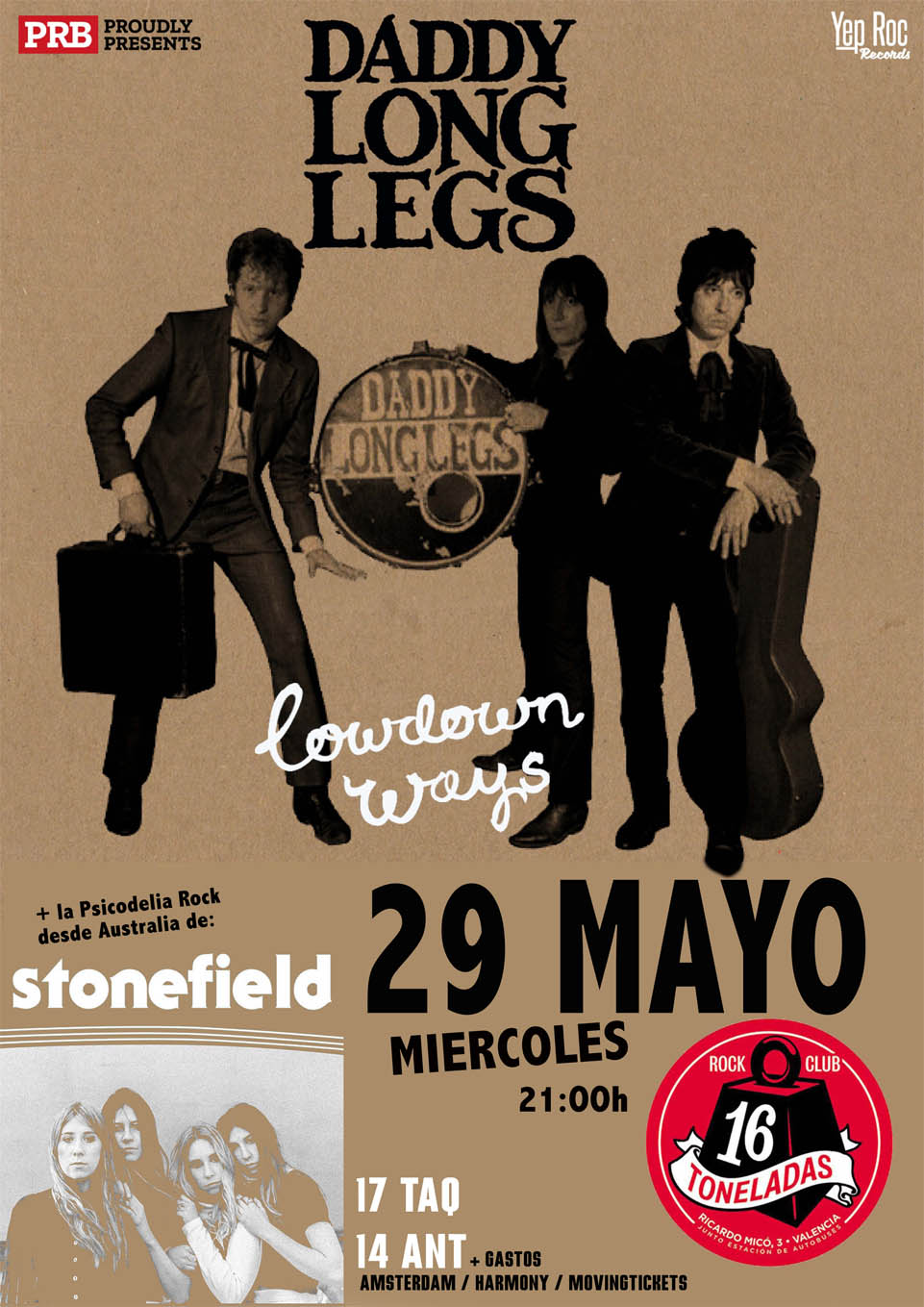 DADDY LONG LEGS
"DADDY LONG LEGS coge el blues y lo vuelve del revés, al revés, renueva su energía primaria. Mi banda favorita de Nueva York del momento ". -Lenny Kaye
El trío con base en Brooklyn, Nueva York, DADDY LONG LEGS, formado por Brian Hurd (voz, armónica, guitarra), Murat Akturk (guitarra de diapositivas) y Josh Styles (batería, maraca) debutará en Yep Roc Records el 10 de mayo con Lowdown Ways, su tercer álbum de estudio.
Producido por Jimmy Sutton y grabado por Alex Hall (JD McPherson, Pokey LaFarge, Jake La Botz) en Hi-Style Studios en Chicago, el álbum presenta 12 composiciones originales con contribuciones de JD McPherson y Sutton. Una nueva dirección de sus primeros dos álbumes de estudio (editados por Norton Records), Lowdown Ways muestra al grupo ampliando sus horizontes sonoros con gritos campestres, gospel, cajun y otras músicas procedentes del Mississippi Hill Music, sin dejar de lado su ya clásico R&B superpotente y con una salvaje harmónica.
Cuando Village Voice le preguntó "¿Qué es DADDY LONG LEGS?", Hurd respondió: "La salvación del rock and roll a través del espíritu de las raíces y el blues". Siguen influenciados por gente como Son House, Captain Beefheart, Howlin' Wolf, MC5 y Dr. Feelgood y su sonido personifica el garaje-rock y el punk con una crudeza contemporánea tocado bajo su hipervitaminado R&B marca de la casa.
Desde su formación en 2010, la banda ha editado dos álbumes de estudio, un álbum en vivo, 2 45 en Norton Records y otros 3 en el sello español FOLC Records.
STONEFIELD
Stonefield es el grupo de las 4 hermanas Findlay (Amy, Hannah, Sarah y Holly) originarias del pequeño pueblo rural Darraweit Guim en Victoria, Australia, que debutaron en 2006 cuando tenían 16, 19, 20 y 24 años respectivamente, bajo el nombre de Iotah.
Cuatro años tardarían en rebautizarse para en 2013 publicar su debut Stonefield, un disco al que le seguirían As Above, So Below.
En 2018 llega Far from Earth, un disco espectacular cargado de rock y psicodelia, editado por Flightless Records, sello de King Gizzard & The Lizard Wizard, con quienes han girado por todo Estados Unidos y México.
Y es que, practicando su particular psicodelia, las australianas han pasado de ensayar en la granja de sus padres en Darraweit Guim a compartir escenario con artistas de la talla de King Tuff, Fleetwood Mac o Black Rebel Motorcycle Club.