Martes 9-10-2018 
              19:00h (apertura puertas)
              12€ anticipada (www.movingtickets.com); 16€ taquilla.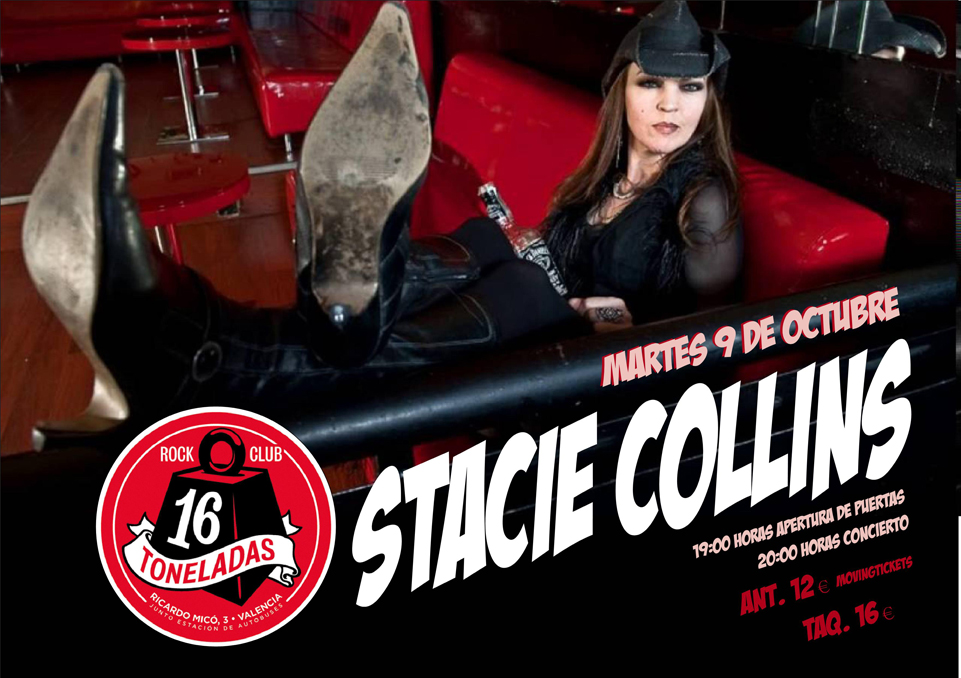 STACIE COLLINS
Con su banda de rock 'n' roll slam-bang y un lamento incondicional, Stacie Collins supera los límites del rock, el blues y el country. Cantante y compositora y una malvada bailarina de armónica al estilo de los grandes del blues de Chicago Little Walter y James Cotton, Collins se ha ganado la reputación de ofrecer espectáculos de alta energía, diversas composiciones y, a diferencia de la mayoría de los cantantes, no todo se trata de amor y falta de amor.
Con sede en Nashville, TN, Stacie es una guerrera de la carretera que ha realizado innumerables espectáculos en los Estados Unidos y Europa en los últimos años. Además de hacer giras, Collins, junto con su compañero de composición, su esposo y compañero de banda Al Collins (Jason & The Scorchers), han escrito, grabado y lanzado cinco álbumes en su propia etiqueta.
Si sus álbumes se hubieran lanzado hace veinte o treinta años, habrían sonado naturalmente en la radio FM de los años 70 junto con ZZ Top y The Rolling Stones, así como rockeros contemporáneos como Drive-By Truckers o Blackberry Smoke.