Miércoles 20-2-2019 
              21:00h (apertura puertas)
              12€ anticipada (www.movingtickets.com); 15€ taquilla.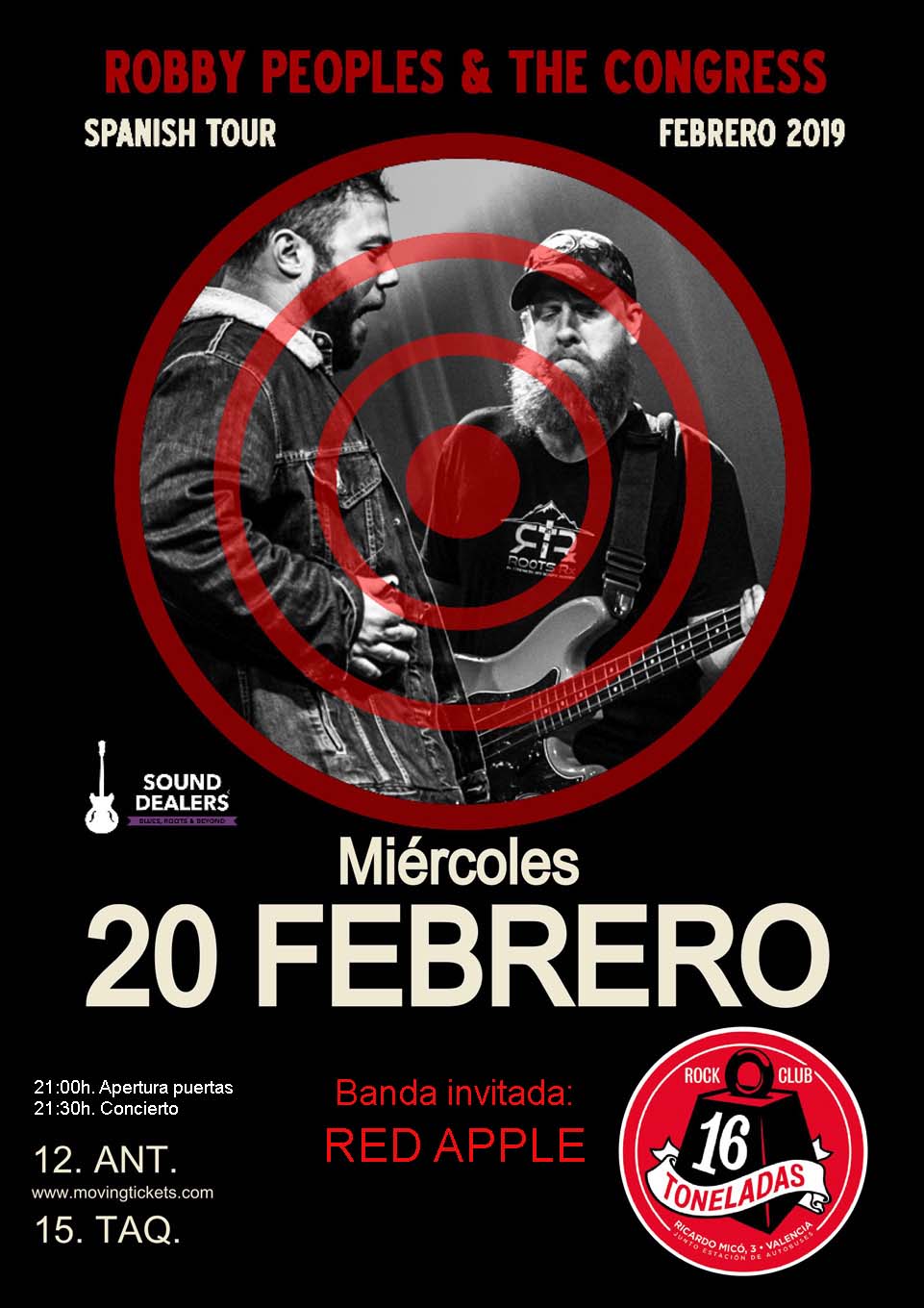 ROBBY PEOPLES & THE CONGRESS 
Por un lado tenemos a Robby Peoples, un armonicista, guitarrista y cantante criado en Mississippi que bebe del hill country blues y el rock'n'roll más clásico, siempre a medio camino entre la lírica de Tom Waits y la energía de Joe Cocker. Robby comenzó en la banda Shady Deal, para poco después tomar rumbo en solitario con su banda The Bank Walkers, sin dejar de colaborar en directo con bandas como The Blues Brothers, The Last Waltz, Leon Russell, o nuestros ya conocidos The Congress por toda la costa este y oeste de EE.UU.
Y esto nos lleva a la 2ª parte de la ecuación: The Congress. Descritos como la banda americana del futuro, el directo de Jonathan Meadows y los suyos es tan versátil como impredecible. En sus shows y discos uno puede encontrar una emocionante mezcla de rock'n'roll, rhythm'n'blues, soul de la vieja escuela, jazz, country clásico y punzante psicodelia.
¿Y qué ocurre si juntamos a Robby Peoples con los chicos de The Congress? Pues que tenemos frente a nosotros una de las giras del año. El potente directo de The Congress, donde no sabemos si nos deleitarán con un arsenal de enérgico blues o con clásicos de la Motown, mezclado con el rock'n'roll de Robby Peoples. ¿Por qué verlos por separado cuando puedes juntarlos a todos en el mismo escenario?
Robby Peoples & The Congress es un concierto único, con 2 de las revelaciones de la música americana más profunda compartiendo escenario a la vez.
RED APPLE
Banda de Rock and Roll madrileña formada en 2006. Influenciada por grupos de rock de los '60 y '70 de UK y USA.