Sábado 12 Noviembre 2022
21:30h (puertas) / 22:00h (concierto)
Entrada GRATUITA CON INVITACIÓN (Disponibles en Discos Ámsterdam)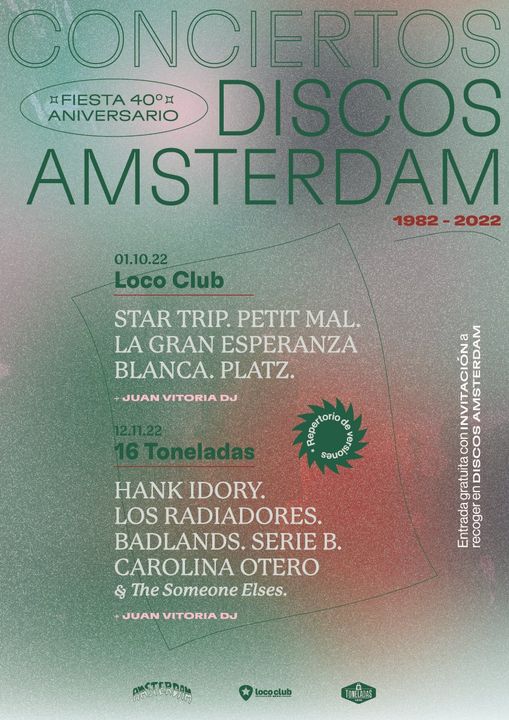 Fiesta 40 aniversario Discos Ámsterdam! 
*Hank Idory
*Badlands
*Los Radiadores
*Serie B
*Carolina Otero & The Someone Elses
5 grupos que SOLO van a hacer versiones, canciones sorpresa de cosas como Dylan, Velvet Underground, Beatles, Stones, Pixies, Hank Williams, Poco, Bowie, Pretenders, Kinks, Who, Paul McCartney, Lou Reed, The Clash, Teenage Fanclub, Strokes, Big Star y muchas más, seguramente bastantes con sorpresa incluida.
Puede que haya también alguna aparición inesperada. Luego Juan Vitoria poniendo canciones, para acabar ambas noches.
Apuntadlo en vuestra agenda.
Se dará dos invitaciones por persona en Discos Amsterdam, ya sabéis, a partir de Agosto y, lógicamente, hasta completar el aforo.
Buenas vibraciones!