Sábado 3-10-2015
              23:00h (apertura de puertas)
              10€ taquilla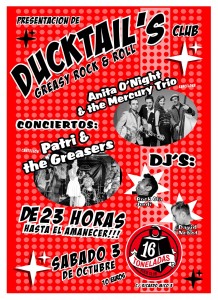 ANITA O'NIGHT & THE MERCURY TRIO
Barcelona, mediados de 2014. Cuatro conocidos músicos de la escena rockabilly de la Ciudad Condal han decidido devolver al género los rasgos originales que se han perdido en varias décadas de escena. Con la firme intención de recuperar la musicalidad, el baile y la diversión, nace ANITA O'NIGHT & THE MERCURY TRIO.
Tras pasar por innumerables bandas (Bang Bang, Quasars, Brioles, Emma Lewis & The Bcn Fireballs…) Anita, Xavi, Pedro y Fran centran sus esfuerzos en componer un repertorio -principalmente original- que suene fresco a la vez que clásico.
Les caracteriza un sonido contundente y electrizante que destila 1950's Rock'n'Roll, Rockabilly, Country y Hot Jazz (Hey, Anita O'Day!) a raudales, así como BOP '56 al más puro estílo CLIFF GALLUP…mientras que la desgarradora voz de Anita evoca el estilo no solo de JANIS MARTIN (The female Elvis), sino tambien a otras reinas del género como CHARLINE ARTHUR o SPARKLE MOORE, con una personalidad arrolladora.
Stop, look and listen to… ANITA O'NIGHT & THE MERCURY TRIO
COMPONENTES: (BANDAS Y COLABORACIONES)
Anita O'Night (voz): Bang Bang, Rave Ones, Legacaster, Johnny Cash Tribute (como June Carter), Sixabilly (50's-60's r&r).
Pedro A. Ortega (bateria): Hellbilly club, Brioles, Bang Bang, The Quasars, The Ricochets, Craig Shaw (Excellos), Little Victor, Atomic Leopards, The Backbone Shakers, Smell of Kat, Enma Lewis & the BCN Fireballs, John Lewis (Rimshots), Sue Moreno, Jan Svensson (Wildfire Willie), Hi-Winders, Travis Bickle, The Fuckin Braineaters (Misfits tribute), Trashtrackers, Ella & the Roosters, Spike Arrow (hog Valley Stompers), John Guster (Rhythm Storms), Uncle Charlie Combo, Diana Cf (Rockatones), Augie Burr (Elvis Tribute), Ster Wax, Gato (Flash Cocodrilos), Mario Cobo (Nu Niles), Miguel A. Garro (Fabulous Ottomans), Alejandra Rueda (Wonders), Empar Roselló, Motorzombis, Carol Dee & The D-Vils, V-59, The Margoes, Tarántula & Morfi Grei, Legacaster & the Hillbilly Trio, Frank Harvey, Barcelona Million Dollar Quartet…
Fran Martín (Contrabajo): The Quasars, Da Surfones, Lewis Enma and BCN Fireballs, HI-FI Dealers, Little Victor, Desbocados, Double Six, Augie Burr, Al Sanchez, Frank Harvey and Honky Tonk Ricos, Frank Harvey and His Sunrises, Uncle Charlie Combo, Juego sucio, The Lagartos, Run Around Cats, Maldito Llobregat, RockRunners, Sixabilly, Loco Cadillac Solitario, Texacos…
Xavi Roman (Guitarra): Bang Bang, Broncats, Frank Harvey and His Sunrises, Ray Quintana, The Quasars…
El rockabilly más tradicional de la mano de los castellonenses Patri & The Greasers, repertorio cargado de temas propios y versiones que van desde el swing hasta el rock americano de los años 50 y 60 más salvaje, con una puesta en escena que no deja indiferente.
… y después SESIÓN DISCOTECA hasta las 6:30h con David Nebot, y Rock Ola Jordi DJ's.