Viernes 29-3-2019 
              23:00h (apertura puertas) / 00:00h (concierto)
              7€ anticipada (www.movingtickets.com, Discos Ámsterdam, Harmony Discos); 10€ taquilla.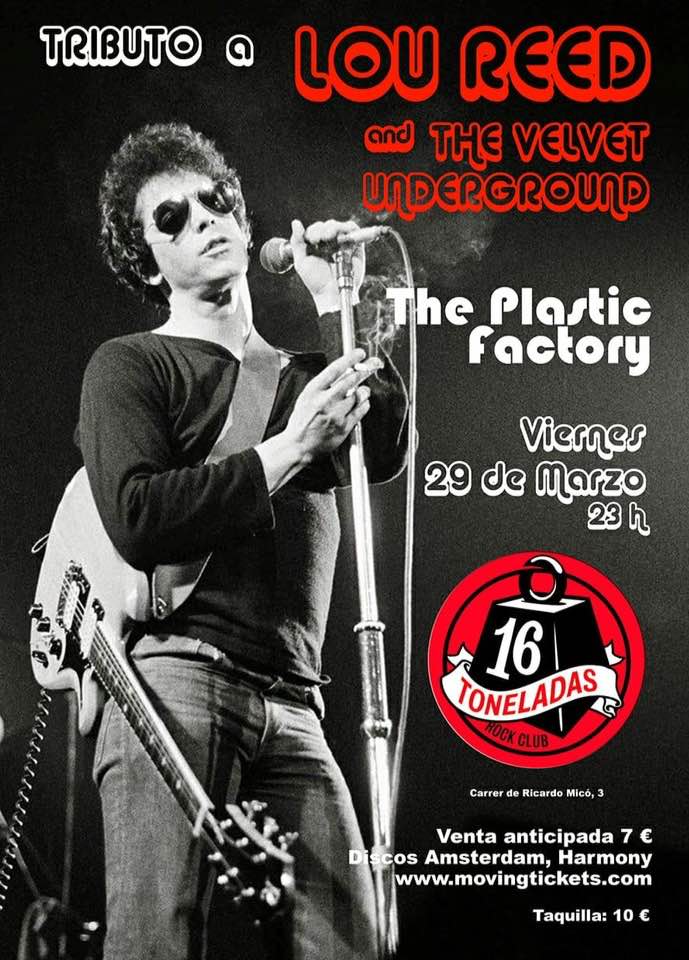 THE PLASTIC FACTORY – Tributo a LOU REED AND THE VELVET UNDERGROUND
The Plastic Factory vuelve con un nuevo tributo a Lou Reed & The Velvet Underground. Nuevo setlist, nuevas versiones, canciones que nunca pueden faltar, alguna sorpresa, y la misma energía e ilusión de siempre. No te pierdas esta nueva conexión Valencia-New York cabalgando a lomos del Rock 'n Roll Animal!!
Con Quique Miquel, voz y guitarra, Carmina Ferrer, guitarra rítmica, José Montoro a la batería, Luismi Arranz al bajo, Juan Dela, guitarra solista, Willy Alemany al saxo, y Gilberto Aubán y Francis Guerrero a los teclados.
… y después SESIÓN DISCOTECA hasta las 6:30h con 16Toneladas DJs