Sábado 20-10-2018 
              22:30h (apertura puertas)
              16€ anticipada (www.movingtickets.com); 19€ taquilla.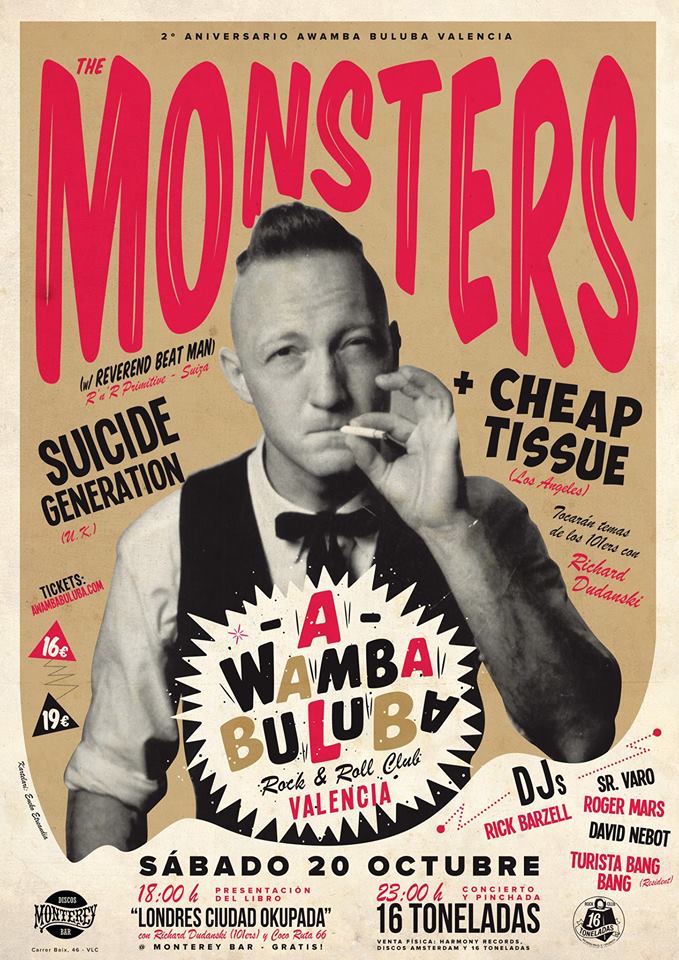 ¡¡¡ 2º ANIVERSARIO A WAMBA VALENCIA!!!
Con los directos de: The Monsters (Suiza) + Cheap Tissue (Los Ángeles)+ Suicide Generation (UK).
Y en cabina, Guest Djs: Rick Barzell (LA) + Roger Mars + Sr. Varo + David Nebot; Residente: Turis Bang Bang.
THE MONSTERS
Formados en 1986 en Suiza The Monsters son una mezcla entre el garage punk de los 60's y el rock and roll primitivo más trash. Con el Reverend Beat-Man al frente han conquistado Europa compartiendo escenarios con artistas como Dick Dale o Public Enemy.
CHEAP TISSUE
Haciendo sonar guitarras borrosas y tres "cantantes" por adelantado, la maestría musical de Cheap Tissue consiste en melodías de garage por excelencia, progresiones punk clásicas y trabajos de guitarra difusos y en duelo bajo sus voces gruñonas que a menudo se cantan simultáneamente durante su vertiginoso y directo set ininterrumpido.  Cheap Tissue se inspira en sonidos que recuerdan a la escena punk de finales de los 70, una inspiración que guía a su auditorio y audaz pero sofisticado sonido.
Cheap Tissue ha tocado con The Vibrators, The Zeros y Slaughter and the Dogs. La banda está compuesta por Andrew Taylor (Guitar / Vox), Jesse Youngblood (Guitarra / Vox), John Tyree (Bass / Vox) y su baterista Matthew Spizer.
SUICIDE GENERATION
Explotaron en la vida hace apenas un año, tocando su marca única de imprudente, primitivo rock and roll. Esta impredecible banda está dejando huella profunda en cada uno de sus pasos, manteniendo el pulso al malditismo de su propio nombre y de sus propias vidas.
… y después SESIÓN DISCOTECA hasta las 6:30h con Rick Barzell (LA), Roger Mars, Sr. Varo, David Nebot y Turista Bang Bang