Domingo 7-10-2018 
              19:00h (apertura puertas)
              10€ anticipada (www.movingtickets.com); 15€ taquilla.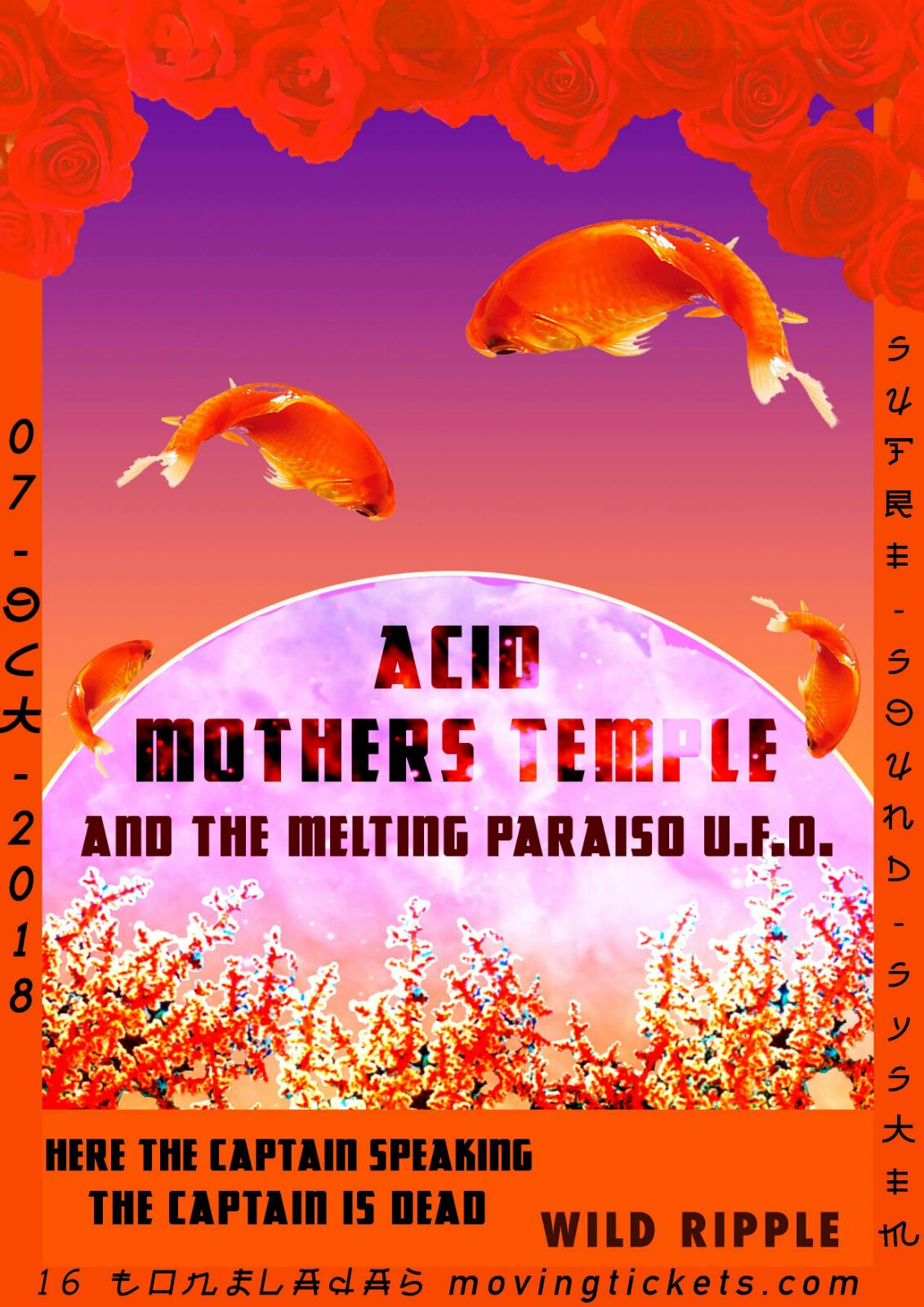 ACID MOTHERS TEMPLE & The Melting Paraiso U.F.O.
Los auténticos reyes de la psicodelia nipona Acid Mothers Temple se adentran en una nueva fase este año con la llegada del vocalista Jyonson Tsu, cuyos directos en solitario, progresivos y teatrales, usando un lenguaje inventado prometen dar nueva vida a las ya de por si lisérgicas actuaciones del grupo. Esta nueva encarnación de la veterana banda estará de gira por primera vez en Europa el próximo otoño.
WILD RIPPLE
De las cenizas de muchos cigarrillos y otras sustancias prohibidas surge Wild Ripple, Banda formado a finales de 2015. Los primos bastardos y drogados de MC5, infectados de stoner, punk y sonidos psicodélicos. En directo es donde la banda da rienda suelta a sus cerebros, abre su mente expandiendo su sonido y se adentra en una atmósfera psicodélica creada tanto por la música como por un liquid show, explorando mundos nunca antes visitados por sus mentes. Han compartido cartel con bandas como Cápsula, Arabrot, Aliment, Teletexto, Mantra for Saints, Acid Mess y Favx.
HERE THE CAPTAIN SPEAKING, THE CAPTAIN IS DEAD 
El trío formado por: Guitarras, sintetizadores: Adrián (guitarras, sintetizadores), Dela (bajo, guitarra) y Lucas (tambores), nos traen su nuevo trabajo homónimo grabado entre marzo y mayo de 2018 en Carcosa Studios, Alboraya. Producido por Here The Captain speaking, The Captain is Dead, mezclado por Adrián Camañez, y masterizado por Guillermo Sanz. Todas las canciones escritas por Here The Captain speaking, The Captain is Dead.