Sábado 30-6-2018 
              23:00h (apertura puertas)
              9€ anticipada (www.movingtickets.com, Harmony Discos, Devil Records); 13€ taquilla.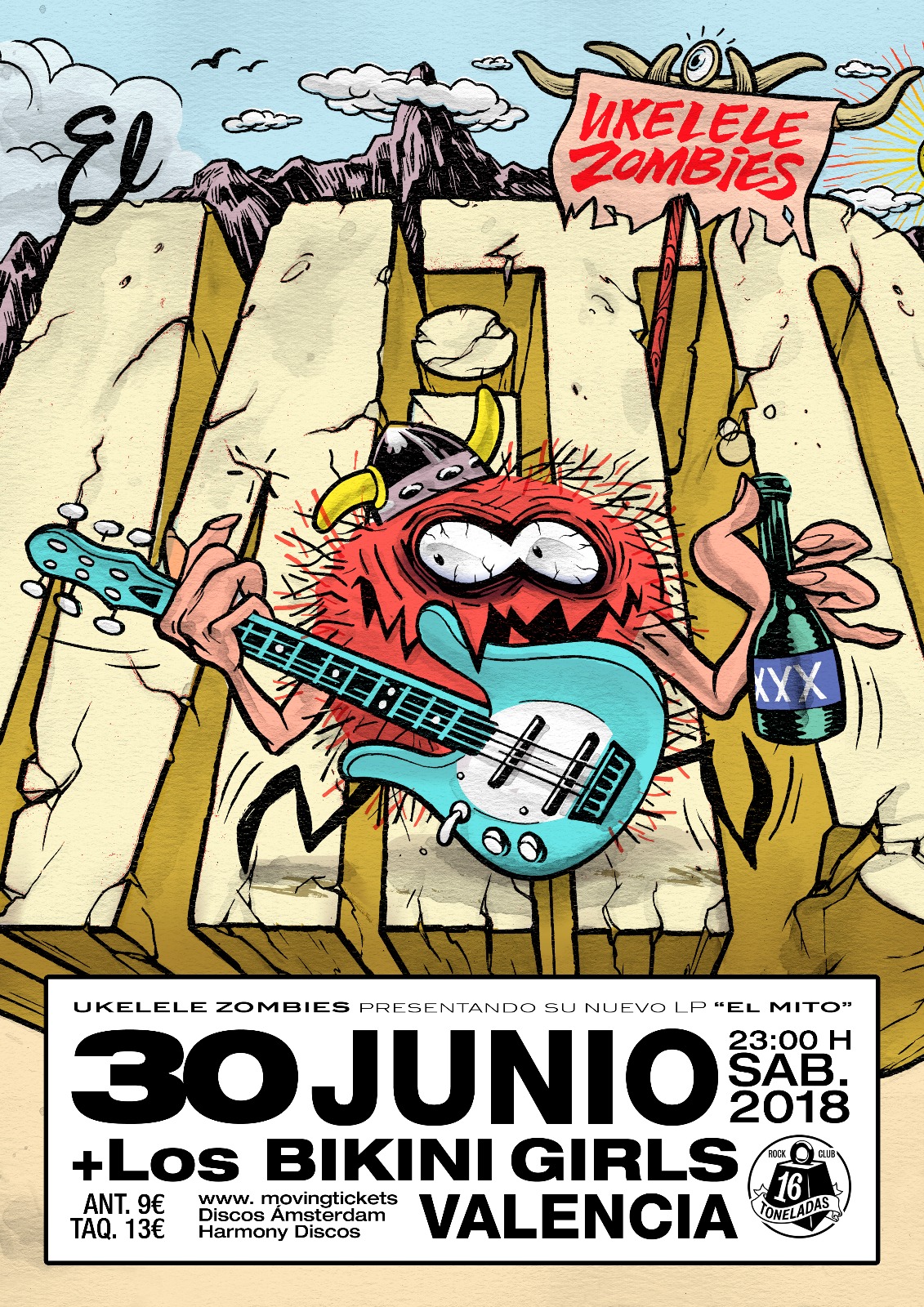 UKELELE ZOMBIES
Ukelele Zombies son una banda valenciana de garage punk y rock 'n' roll. Llevan recorriendo los escenarios desde 2011 y han tocado en distintos festivales del país como el Wáchina Wáchina, el One Fine Day, y el Funtastic Drácula Carnival. Han compartido escenario con bandas como Wau Y Los Arrrghs!!!, The Lords Of Altamont, Los Explosivos y Los Nastys.
En verano del 2014 ve la luz su primer EP, "GUOU LLEAH!!!", editado por Pocket's Robots Records, con cuatro temas que reflejan la puesta en escena de esta banda bañada en nitroglicerina.
Y ahora nos traen su primer Larga Duración "EL MITO", del que podemos decir orgullosos que ha sido grabado en el 16Toneladas, y que vendrán a presentarnos en este concierto.
Ukelele Zombies no es otra cosa que diversión y TU GRUPO FAVORITO.
Kick out the trap moderfuckers!!!
LOS BIKINI GIRLS
Cuatro californanos que surfean el río vacío de una ciudad infestada de cucarachas, golpean sus instrumentos y gritan profecías reptilianas a ritmo de garage. Los Bikini Girls son: Paquito Nugget, Maik Wason, Mario Treparmario, Xemita Matador.
… y después SESIÓN DISCOTECA hasta las 6:30h con 16Toneladas DJs